Read an article about our concert series "Unterdeck" at the Elbphilharmonie Hamburg here (or in German here).
Unterdeck I
#AsPresentAsPossible
December 1st, 2017
Curated by: Brigitta Muntendorf
#AsPresentAsPossible – an homage to the "Bang"!  With a glimpse from the Elbphilharmonie, the Decoder Ensemble and Brigitta Muntendorf invite all to a transmedia happening, where the significance of corporal presence intertwines with concepts of physical and virtual existence in the events occupying all areas of the concert room.  With the music of Michael Beil​, Jessie Marino​, Brigitta Muntendorf (WP), Fat Boy Slim, Josh Spear and interludes drawing upon the Youtube/street musicians "Too Many Zooz", #AsPresentAsPossible is constantly exploring the space between music, theater, and video amidst real and virtual "thereness".  Through the collaboration with the choreographer Miriam Heinrich Horwitz​, one witnesses how the Decoder Ensemble encounters a new side of performance culture.  Here, physicality and reality, and the perception of those, confronts the musical interpretation.  How present can we, and do we want to be?  When do we transcend into presence through the very mediums that should make us invisible?
Unterdeck II
Ich werde etwas mit der Sprache machen
February 16th, 2018
Curated by: Nora Gomringer
Trailer by Pedro González Fernández
Poet and spoken-word performer Nora Gomringer, who won the Ingeborg Bachmann Prize in 2015, stands for the spoken word in verse like hardly any other contemporary author. In this programme, she enters into a dialogue with the musicians of the Decoder Ensemble and evolves a conversation in the realm between word and sound: lively, dynamic, tongue-in-cheek and perfectly suited even to people who can't stand poetry!
Unterdeck III
The Way Sounds Go
May 4th, 2018
Curated and Composed by: Simon Steen Andersen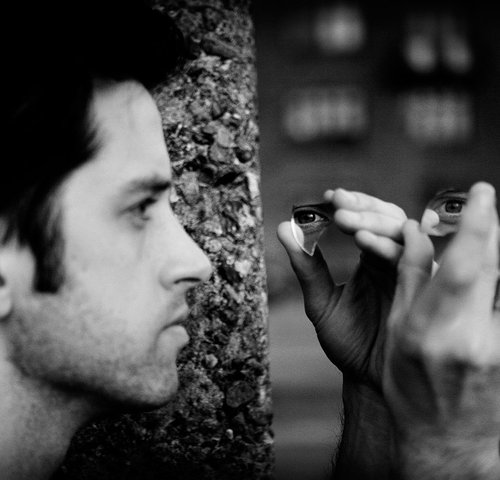 Centred around three new ensemble-specific versions of the video work "Run Time Error", Steen-Andersen weaves together a staged concert event, combining music, video, light and performance. "Run Time Error", "Asthma", Steen-Andersen's most recent piece, and excerpts from his music theatre work "If This Then That And Now What" offer alternative perspectives on everyday objects and activities like walking and running, opening and closing doors as well as exploring rube-goldberg-contraptions, ritualistic repetitions and found film footage. This builds a natural bridge to two 'classic' video works by Martin Arnold ("Pièce Touché", 1989) and Fischli/Weiss ("Lauf der Dinge / The Way Things Go", 1987), where similar elements play a central role and which could be seen as predecessors to a work like "Run Time Error".